'It's not what's on the outside.': Morris College holds Law Enforcement Diversity Awareness Workshop for regional agencies
PHOTO BY SHELBIE GOULDING / THE SUMTER ITEM
Posted Wednesday, October 28, 2020, 6:00 am
GOULDING shelbie@theitem.com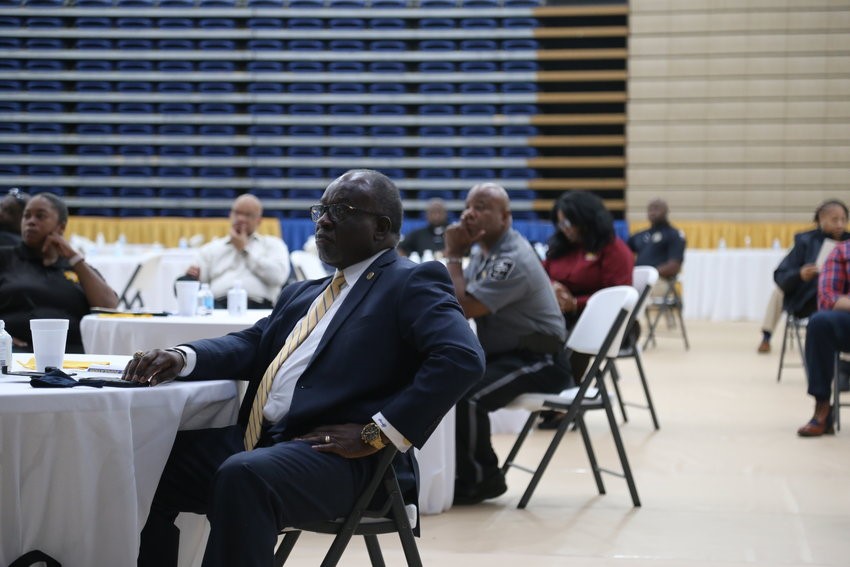 A workshop held at Morris CollA group listens to speakers at Morris College's Law Enforcement Diversity Awareness Workshop held recently at the school.BY SHELBIE ​ege on Monday served as a way to help law enforcement come up with strategic solutions and grow with new generations of communities in the country.
The Law Enforcement Diversity Awareness Workshop was the college's first for local and regional law enforcement agencies in South Carolina, which was meant to focus on building trust in a diverse population in either the agency itself or the communities they serve.
"Since the world is changing and we have so many different types of people, we want to make sure that our law enforcement community is aware of cultural issues in diversity," said Carlotta Stackhouse, director of Security Services at Morris College.
The retired major with the South Carolina Law Enforcement Division decided to orchestrate Monday and Tuesday's event to focus on everything that's going on in the world.
From protests over racial injustice to agencies shutting down, Stackhouse said it is necessary for law enforcement agencies to collaborate and talk about the diverse issues officers deal with every day, as well as give them the opportunity to address issues they've seen on the job and in the office.
Law enforcement agencies from the surrounding Sumter area were invited to take part in the free workshop.
Agencies from the City of Sumter, Sumter County, Lee County, Clarendon County, Orangeburg County, S.C. Highway Patrol, and more in the region attended the two-day event.
"We are part of the community. We are part of Sumter County. We are part of South Carolina. We have the facility, and we wanted to give back," Stackhouse said.
With students learning remotely, Morris College used its auditorium to hold the workshop. It consisted of community leaders, as well as two keynote speakers who gave a national perspective on current diversity issues in the U.S.
Cedric Alexander, who served more than four decades in law enforcement and public service, discussed diversity in policing strategies while maintaining a strong, safe, and secure community.
He was the former chief of police in DeKalb County, Georgia; president of the National Organization of Black Law Enforcement Executives; and a member of former President Barack Obama's Task Force on 21st Century Policing.
Alexander has focused on reforming troubled police departments, as well as restoring trust between them and their communities across the country. He talked about his firsthand experiences as well as events he witnessed over the years about growing strife over race, communities, and the police.
Growing up with biases, Alexander said, he, along with many other officers, need to adapt with the times as they step into a new generation of recruits and communities. He grew up in the '60s and '70s, and today's world is nothing like it was then.
Law enforcement must change with the world, Alexander said. Officers need to go outside of their comfort zones and change their perspective and understanding to work with their communities because that's what diversity is all about.
"That's diversity. It ain't showing up on the job white or Black or a woman or a Hispanic or gay or lesbian. It goes far deeper than that. It's the ability to be comfortable around things that we have not grown up with or around because the people that we serve are very different than us," Alexander said. "The difference is in us. It's not what's on the outside. It's what's on the inside."
Marquez "Marq" Claxton, a retired New York Police Department detective and 9/11 World Trade Center first responder, was another keynote speaker who brought his 20-year policing experience to the table and discussed trends in the police force and building trust between communities and law enforcement.
Along with the keynote speakers, local and regional officers and deputies talked about topics such as diversity in terms of gender issues and other minority communities law enforcement agencies encounter, according to Stackhouse.
There were also remarks from Sumter County Sheriff Anthony Dennis, Morris College President Leroy Staggers, state Rep. David Weeks, D-Sumter, Sumter Mayor Joe McElveen, Sumter Greater Chamber of Commerce President and CEO Chris Hardy, Solicitor Ernest "Chip" Finney III and Sumter Police Chief Russell Roark.
"It was definitely an important conversation," Staggers said. "It has been great collaborating with our Sheriff Dennis, as well as our Chief Roark and all the other law enforcement agencies."
Stackhouse said they hope to turn this two-day event into a series, where they will hold the workshop during the spring and fall semesters each year. She also hopes to invite Criminal Justice Program students in the future.