Morris College Will Continue Remainder of Semester Online
March 27, 2020
PRESS RELEASE
CONTACT INFORMATION:
Office of the President
Communications Director
Jacqueline M. Sturdivant
803-934-3271
March 26, 2020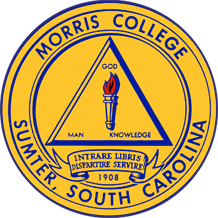 Morris College Will Continue Remainder of Semester Online
Morris College transitions to online instruction for the remainder of the semester
Morris College, in accordance with South Carolina Governor Henry McMaster's executive order concerning higher education institutions, will extend our move to online instruction for all courses for the remainder of this semester. In this way, all students will have the opportunity to complete their spring 2020 courses while maintaining safe and healthy precautions against COVID-19. Morris's strength is that we are a family of caring individuals who want nothing but the best for one another and our tradition of delivering a student-centered experience.
Effective Immediately:
< >We will continue with online instruction for the remainder of the semester. All boarding students please reference the notice from Residential Life posted on the college website located under NEWS.
www.morris.edu/news
All campus events are canceled.Commencement is postponed.
###