Morris College hires Tammy Brown as Head Women's Basketball Coach and Enrollment Counselor
August 06, 2021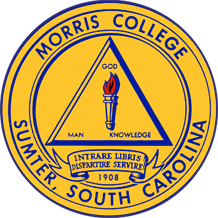 Enter to Learn; Depart to Serve
Morris College For Immediate Release
Institutional Advancement
100 West College Street Sumter, South Carolina 29150
communications@morris.edu| https://www.morris.edu/
Tammy Brown, a two-time combat veteran and an avid sports fan joined the Morris College family in August 2021 as the Head Women's Basketball Coach and Enrollment Counselor. Brown, a native from Annapolis, Maryland has received a Joint Service Commendation Medal, Army Achievement Medal, Army Good Conduct Medal, National Defense Service Ribbon, Iraq Campaign Medal, Global War on Terrorism Ribbon, Korean Defense Service Medal, Air Force Expeditionary Service Ribbon, Army Service Ribbon, Overseas Service Ribbon, and an Air Force Longevity Service Ribbon. While her military awards are impressive, her coaching highlights, awards, and recognition as a basketball player are equally as impressive and will bring tremendous value to Morris College.
Brown established a NJCAA DII women's basketball program that had been a club team at Johnston Community College; produced two academic All-Americans with a 3.7 Grade Point Average or better; has had four nationally ranked student-athletes in the top 10 statistical categories to include scoring, field goal percentage, three-pointers made, and field goals attempted at NJCAA; re-established USA Fort Hood's women basketball program from the ground up after a 14-year hiatus due to The War on Terror; and comes to Morris College with over eight years of coaching and teaching experience from the middle school to collegiate level.
Not only is Brown an experienced coach, she is also an experienced basketball player: she has been inducted into the Central Intercollegiate Athletic Association (CIAA) Hall of Fame, was a two-year letterman for Fayetteville State University Women's Basketball Team, a two-time All-CIAA Selection First Team, and the most prolific scorer in the history of Fayetteville State University men or women's basketball program. She was also Street and Smith Magazine, USA Today All-American, Honorable Mention in 1989 and 1990, a two-time State Maryland 4A State Champion, Girls Basketball in 1989 and 1990, and Broadneck High School retired her jersey in January 2018.
"All praises to the highest, I am truly humble and thankful to President Staggers, and Athletic Director Mr. Houck, for providing me an opportunity to build a program and pay it forward to student athletes giving them an opportunity to earn a degree and play collegiate basketball, said Tammy Brown, head women's basketball coach and enrollment counselor.
Brown's coaching philosophy is "in coaching you must Be, Know and Do, have strong interpersonal skills, must be competent and have a true passion for coaching. My philosophy is built on five pillars and they are teaching, coaching, mentoring, training and developing student athletes to become productive members of society."
Brown earned her a Master of Arts in Education from Trident University International in 2018 where she graduated Magna Cum Laude. Brown also holds a Master of Arts in Political Science and a Bachelor of Science in Criminal Justice from Fayetteville State University.
About Morris College
Morris College is a historically black, coeducational, liberal arts college, founded by the Baptist Educational and Missionary Convention of South Carolina in 1908. The college is committed to promoting the intellectual and personal development of every one of its students. The mission of Morris College is to produce graduates who can pursue useful and productive careers and in so doing enhance their own lives and the society in which they take their places. That mission is being successfully implemented by the thousands of Morris College graduates throughout the nation who are continually making significant contributions.
###