Alumni News
February 09, 2021
Congratulations to Morris College alumna, Barbara Jackson. Jackson will serve as the new chair of Sumter School District's Board of Trustees. According to Jackson, she wants to "increase collaboration and bring people together, especially the board, Sumter County Council and the county legislative delegation." Jackson is "hoping as time passes from COVID-19, we can all get together and be about what we are about - education of the children and improving and moving forward in the district."

Read More Here: http://bit.ly/3t2rgAD.
Congratulations to Morris College alumna, Gloria Lee. Lee won the Area 6 seat on Sumter school board. According to Lee, she is "excited and thankful to God to win." "I thank everyone who helped me and the voters, and I am just overwhelmed right now, said Lee about the general election over three challengers. "I am looking forward to working with the board to see where we can go to improve any areas that we need to improve."

Read More Here: http://bit.ly/3op7POT.
Congratulations to three of Morris College's trustee board members for recently being elected to city and county councils.
Board secretary James B. Blassingame, an involved community pastor and a state and national Baptist leader, has embarked on a new adventure. Blassingame won the runoff election on November 17, 2020, and is now one of seven members that serve on the Sumter City Council, where he represents Ward Two.
Blassingame is a 1981 graduate of Morris College, where he earned his Bachelor of Arts degree. After receiving a Bachelor of Divinity from the former Morris College School of Religion, he completed thirty hours of doctoral studies at Erskine Theological Seminary. He has participated in Continuing Education studies at Princeton Theological Seminary and completed a nine-month internship in Clinical Pastoral Education with the South Carolina Department of Corrections. While at the SCDC, he provided pastoral care to inmates in a maximum-security prison, including three months on death row.
In addition to serving as pastor of the Mt. Zion Missionary Baptist Church in Sumter, Blassingame serves as secretary on the Morris College Board of Trustees and the National Baptist Convention, USA, Inc., as well as chaplain of the Morris College National Alumni Association. He is affiliated with several boards and organizations, including president of the Wisteria Way Board of Directors, Bank of Clarendon Sumter Advisory Board, Sumter Police Chief's Community Liaison Council, and the Mt. Zion Enrichment Center Board of Directors. Blassingame is the immediate past president of the Baptist Educational and Missionary Convention of South Carolina and is the recipient of numerous awards and honors, including the honorary degree of Doctor of Divinity from Morris College, the Mamie L. Duckett Founder's Day Award from Benedict College, and a 2018 inductee into the Morris College National Alumni Association Hall of Fame. He is a life member and South Carolina District Chaplain of Alpha Phi Alpha Fraternity, Inc. and is an NAACP life member.
A living testament to the college's motto, "Enter to Learn; Depart to Serve", his running for city council comes as no surprise. Service has always been a pivotal part of this U.S. Army veteran's character and personality. Blassingame took the oath of office during an installation ceremony for Sumter City Council on November 30, 2020.
Blassingame is married to the former Shirley L. McFadden. They have three children, six grandchildren, two great-grandchildren, and one daughter-in-law.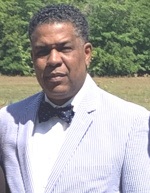 Carlton B. Washington, a new member of the Board of Trustees, was recently elected to serve as a member of the Sumter County Council, where he represents District 1. After graduating from South Carolina State University as an Academic Scholar, Washington served in the United States Army Reserve and National Guard as a 1st Lieutenant.
Currently, Washington heads the South Carolina State Employees Association as its chief executive officer. He represents the association in all public and private forums, including testifying before the South Carolina General Assembly committees/sub-committees and all chapter, agency, and community forums.
Heavily involved in community affairs, Washington is the founder and chairman of I-CAR. This community action organization shares a common cultural and historical heritage of citizens in Rembert, SC and works for the public benefit of citizens living in rural areas. He also chairs the Dennis Farms Development Initiative, a private community service program established to promote seniors' quality of life and health. He is also the founding partner of SouthTrac LLC, a public affairs firm representing clients at every level of government and community engagement.
Other affiliations include serving as 2nd vice president of the Sumter Branch NAACP, the Sumter County Sheriff's Office Community Advisory Board, the National Council of Negro Women, American Legion, and Omega Psi Phi Fraternity, Inc.
Washington won the Democratic primary runoff on June 23, 2020, and faced no Republican opposition in the November 4th election. He will take the oath of office at a later date.
Troy Glover, member of the Morris College Board of Trustees and alumnus, was named chair-elect of the Association for Learning Environment's international Board of Directors in November 2020. Mr. Glover has made history as the first African American to be elected to the international board.
Mr. Glover is a planner for DLR Group and currently works in the Columbus, Ohio, office. His expertise spans a variety of planning services, including facility master plans, strategic plans, facility evaluations and assessments, curriculum alignment, and educational specifications. A critical part of his work involves engaging internal and external client stakeholders through a proven community engagement process. This process, which empowers participants to become decision-makers, oftentimes results in consensus of standards and guidelines for school improvements and future direction of school systems.
Mr. Glover has received widespread recognition for his work and was named a Fellow by the association – a distinguished honor for members who have demonstrated excellence in the industry. Prior to his recent appointment, Mr. Glover has been active with the association on the international, regional, and state levels. In addition to being elected to the Board of Directors, his contributions at an international scale include serving as a member of the Fellow Designation, Membership, and Solutions Provider Committees. Mr. Glover has also served as treasurer, president, and chair of the Awards Committee for the Midwest Great Lakes Region. In addition, he was previously the membership chair and advisor of the Ohio Chapter.
A native of Camden, South Carolina, Mr. Glover graduated from Morris College with a Bachelor of Science degree in mathematics. He went on to earn a master's degree in city and regional planning from The Ohio State University and completed a science and engineering program at Clark Atlanta University (formerly Atlanta University). In addition to being a member of the Board of Trustees, Mr. Glover is also president of the Morris College Ohio Alumni Chapter.
The words of Dr. Benjamin Elijah Mays have guided Mr. Glover: "The tragedy in life does not lie in not reaching your goal. The tragedy lies in having no goal to reach." He is grateful for the training he received at Morris College and said, "I was fortunate to have instructors and staff who invested in my intellectual and social development. These developmental tools have guided me through life and are now helping me navigate the complexities of society. My experience at Morris College was both rewarding and fulfilling. I implore current students to take full advantage of the academic and social opportunities provided by Morris College."
Giving back to the community through service is nothing new to Mr. Henry Darby. Darby is the principal at North Charleston High School, councilman on the Charleston County Council, and a Walmart Associate at Walmart in North Charleston, South Carolina. Having heard stories about students of his sleeping under bridges and in cars, Darby became a Walmart Associate in 2020 to earn extra money so he could help them. Somehow word about his acts of kindness and generosity spread throughout the community. The retail giant, inspired by Darby's commitment and dedication to his students, awarded him $50,000 to help his noble cause.
Darby is a 1975 graduate of Morris College and holds a Master of Arts degree from Atlanta University (1985). Darby has also earned a Master of Education (2007) and an Education Specialist degree (2011) from the Citadel as well as he has studied further at Emory University.
From Darby's biography, one can see evidence, Darby is actively involved in every facet of his community. Darby sees a tremendous value in being of service and doing what he can to help others. Morris College appreciates what he is doing and encourages others through the school's motto (Enter to Learn; Depart to Serve) to also be good servants to their community. Darby's great examples of service are indeed inspiring and the Morris College family salutes Darby and other alumni like him on a job well done.
Darby has been principal of the North Charleston High School since 2017 and a member of the county council since 2004.
Read news article here: https://abcnews4.com/news/local/north-charleston-principal-henry-darby-to-receive-order-of-the-palmetto.
To be featured in the Alumni News section on Morris College's website, send news to tferguson@morris.edu.